Houston, we have a house! If you follow me on Instagram, you may have seen that we just closed on our next project! The Avenue House (see more info on this house here) is a really cute craftsman house that just needs a little TLC. While we are very excited, I am also a little nervous because this is the first flip we are managing just the two of us. We are acting as our own general contractor, so I hope that we do not have too many surprises along the way.
Our purchase price ended up being $52,500 (+ $790.85 in closing costs). After week one, we haven't gotten a whole lot done except for lots of planning and coordinating. We are bringing in a lot more subs than the last flip (Dalton House) including a HVAC installer, plumber, electrician, and hardwood refinisher. Below are all of the before photos!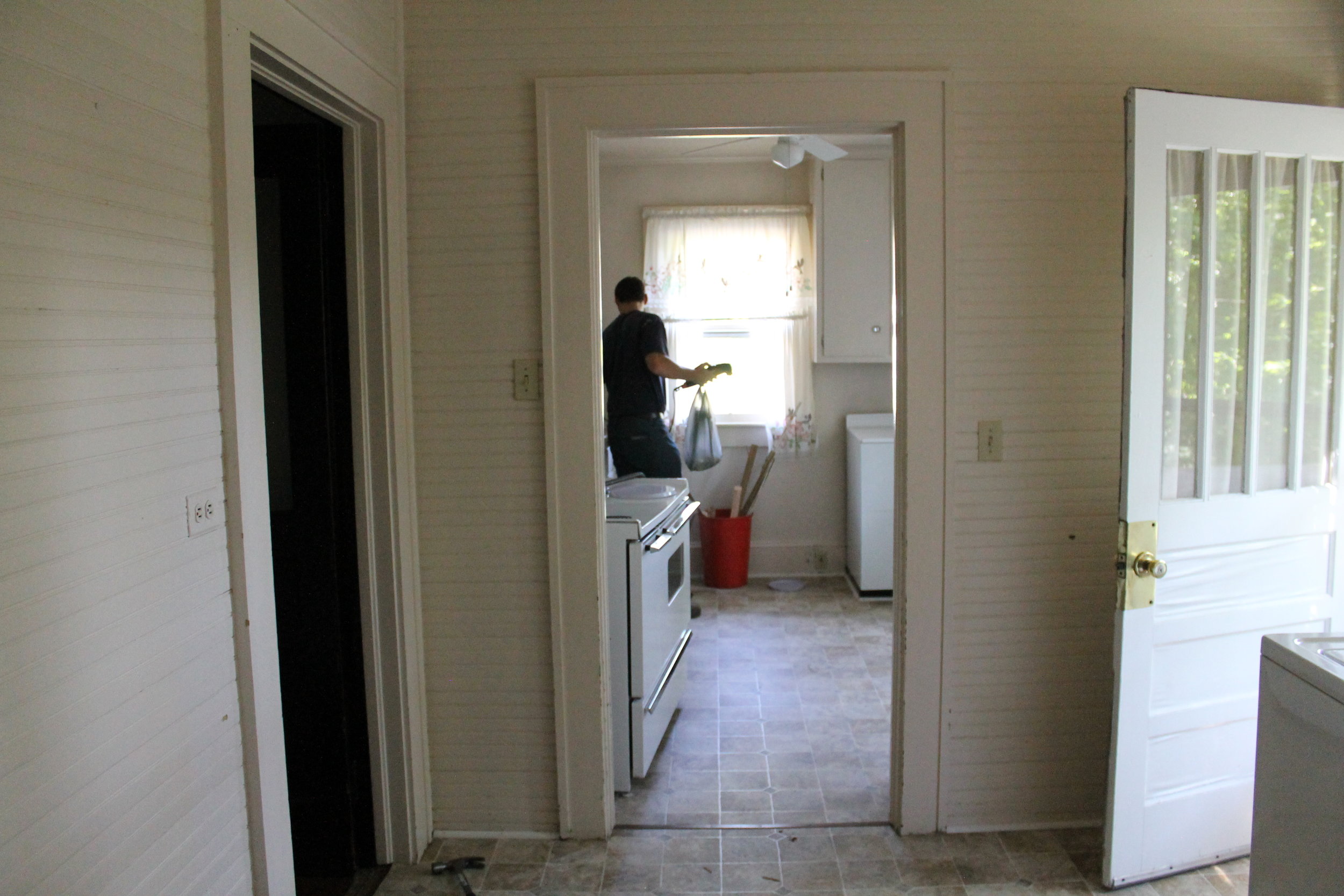 We did manage to demo the kitchen which was a little more of a beast than we originally anticipated. In an effort to expose the original hardwoods in the kitchen, we had to remove all of the appliances (including a super heavy hot water heater), rip out the cabinets (which were nailed into the trim and door casings... wonderful), and remove the three layers of vinyl and plywood flooring.
Three layers of vinyl might not seem that bad, but each layer was on top of a layer of thin plywood with A MILLION staples in each one. And the oldest layer was glued down to the wood floor. It took the two of us 9 hours to scrape the layers off and pull out all of the nails by hand. I am still sore from bending over the floor for that long. We did run into some water damage on the floor and a few holes we will need to patch but hopefully nothing that can't be remedied.
Another great find was the old brick chimney that had been covered up with plywood (someone who owned this house loved plywood). We have to patch the old furnace hole, but with the hardwoods and brick exposed, you can kind of envision what this house looked like when it was originally built in the 1930s.
Brian started repairing the plaster which involves scraping, patching, sanding, repeat. It is going to take a while to prep the walls, but in the meantime, I can cover up the ivory paint on the beadboard ceiling with a nice fresh coat of white!
I also went ahead and ordered the appliances. It was definitely a little early, but I wanted to take advantage of the Memorial Day sale. The appliances I ordered were 30-40% off, so I figured with that much savings, it would be worth storing the appliances for a while and working around them. I measured for all of the kitchen cabinets and think we came up with a pretty good layout for this tiny space! Countertop samples are trickling in (going with laminate) and I can't wait for you guys to weigh in on options!
Our goal is to have this flip on the market by September 4th (about three months after closing). There is a lot of work to do, but I think if we buckle down, it is definitely feasible.